FEBRUARY HAS BEGUN WITH A FLURRY OF ACTIVITY FROM OUR END OF THE BUSINESS. WE RECENTLY ATTENDED THE ASHRAE SHOW IN ATLANTA IN LATE JANUARY AND THE LOCAL CHAPTER MEETING ON 2/12 HERE IN SO. PORTLAND.  ADDITIONALLY THERE FINALLY SEEMS TO BE SOME WORK HITTING THE STREET TO QUOTE. WHILE WE HAVE BEEN SLOW THE LAST COUPLE OF MONTHS, THE DESIGNERS MUST HAVE BEEN BUSY.
THE LOCAL FEBRUARY ASHRAE MEETING HAD ANOTHER INTERESTING TALK FEATURING RADIANT IN FLOOR HEAT. WITH ABOUT 30 ATTENDEES, INCLUDING THREE FROM LANPHNER ASSOCIATES WHO FLEW DOWN FROM BAR HARBOR, THE 50/50 RAFFLE WAS WORTH A  HUGE  $15 DOLLARS.  DAVE CLAY, FROM MECHANICAL SERVICES, OUR PRESIDENT IN WAITING, WAS THE LUCKY WINNER.  WE WILL FORM A COMMITTE TO LOOK INTO IRREGULARITIES AND INSIDE DEALINGS ON THIS ISSUE.  NEXT MONTHS MEETING IS SCHEDULED TO BE A JOINT MEETING IN NEW HAMPSHIRE AT THE RED HOOK BREWERY. IT IS A SHORT RIDE AND A CHANGE OF PACE.  WE HOPE TO SEE SOME OF YOU  THERE.
THE NEWS FROM OUR VISIT TO THE NATIONAL ASHRAE SHOW IS THAT WE HAVE BEGUN REPRESENTATION OF THE "PRICE CO." AIR DIFFUSION AND VAV PRODUCTS.   THEIR FACTORY IS IN THE ATLANTA AREA   AND IS VERY IMPRESSIVE.  I SNAPPED SOME PICTURE OF THEIR SHOW ROOM. CLICK ON THE PICTURES HERE OR GO TO THEIR WEBSITE WWW.PRICE-HVAC.COM.   I HAVE NOT SEEN A PRODUCT DISPLAY AND TESTING FACILITY AT ANY HVAC MANUFACTURING COMPANY  AS NICE AS THEIRS.  I DID NOT KNOW THAT "PRICE CO." IS THE SECOND LARGEST MANUFACTURER OF AIR DIFFUSION & VAV EQUIPMENT IN THE U.S. AND THE LARGEST WORLD WIDE IN THEIR ESTIMATION. THEY HAVE 5 FACTORIES IN CANADA, ONE IN THE U.S. AND ONE IN SINGAPORE.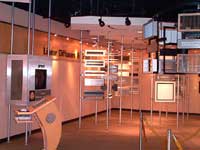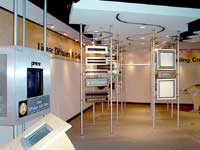 WHAT I FOUND MOST REFRESHING IS THAT THEY MAKE CRAZY UNIQUE PRODUCTS IN ADDITION TO THE COMMODITY TYPE STUFF.  I HAVE FOUND THAT MANUFACTURERS THAT ARE PART OF CONGLOMERATES HAVE LIMITED FLEXIBILITY DUE TO THE CORPORATE PARENT.   PRICE CO. IS  PRIVATELY HELD  BY A MAN WHO LIKES TO MAKE NICE EQUIPMENT.  THE IMMEDIATE RETURN IS NOT HIS DRIVING FORCE.  HE WANTS TO BE THE SUPPLIER OF PREFERANCE OF CONTRACTORS, ENGINEERS AND BUILDING OWNERS.  I HAVE A BUNCH OF SAMPLES COMING IN THAT I HOPE TO SHOW TO INTERESTED PARTIES. WE WILL BE STOCKING EXTENSIVELY, BOTH VAV & R,G,D'S.
THE OTHER PRODUCT NEWS FROM THE NATIONAL ASHRAE SHOW WAS THE OFFICIAL UNVEILING OF THE LOREN COOK HEAT RECOVERY UNIT FEATURING THE ENTHALPY WHEEL. THIS UNIT HAS BEEN IN DEVELOPMENT FOR 2 YEARS.  IT WAS AVAILABLE LAST YEAR, BUT COOK WAS SO BUSY THEY COULDN'T SCHEDULE REASONABLE PRODUCTION TIMES OR GET THE LITERATURE DONE.  THAT IS NOW BEHIND US.  CLICK ON THE ATTACHED PHOTOS TO GET A GLIMPSE OF THE FEATURES OF THIS PRODUCT.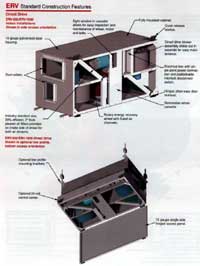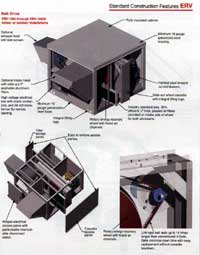 THE LITERATURE HAS BEEN PRINTED AND IS EXCELLENT.  THE SELECTION AND PAYBACK ANALYSIS IS BEING INCORPORATED INTO THE COOK SOFTWARE NOW AND WILL BE AVAILABLE THIS SPRING.   IF ANY OF YOU HAVE USED THE COOK SELECTIONSOFTWARE, YOU WON'T BE DISAPPOINTED WITH THE EASE OF USE OF THIS ADDITIONAL PRODUCT.  THE COMPONENTS ARE SECOND TO NONE.  FINALLY,  THE CABINET CONSTRUCTION AND FINISH IS FURNITURE QUALITY FEATURING THE BAKED ON POWDER COATING THAT EXCEEDS THE 1000 HOUR SALT SPRAY TEST.
IN THE HEAT RECOVERY THEME, SEE OUR FEATURED JOB THIS MONTH.  IT IS A LARGE BOSSAIRE FLATE PLATE HEAT RECVOVERY UNIT SUPPLIED FOR CMP.  READ ON FOR THE DETAILS.  THANKS.