Hello again fellow HVAC industry people.  We get involved in many different components of the HVAC industry and quite frankly prefer the more unique projects.  One of my favorite applications to get involved in is air-to-air heat recovery and this months featured project falls into the unique catagory. It involved replacing a failed existing heat recovery unit.  Our manufacturer, Bossaire, fabricated an  8,000 cfm air to air heat recovery unit with oil fired reheat for Central Maine Power's Transformer Repair Facility.  This facility is a prime candidate for air to air heat recovery because they need 100% outside air due to the PCB's present in transformers that they work on.
We were approached to quote an alternate to the existing heat recovery unit that had developed leaks, was unsightly and was underperforming.  One of the existing  units main problems was that it was a modular construction.  While this buzz word sounds like a good idea, the reality is that it is prone to a few inherent problems.  The main problem is that at each section joint, you have a potential leak point. With the repair of very expensive transformers happening right underneath the units, water could not be tollerated dripping onto the shop floor.  To combat this problem, the old units were mounted up on structural steel stands with only the ducts penetrating the roof. See the attached pictures of the old beasts getting hauled off the roof.
After a site visit to one of our existing installations and a review of the owners concerns, we developed a proposal to meet the needs of all parties. The first priority was that the unit had to be rugged and leak proof.  The owner prefered  a single cabinet and wanted to set the unit on a roof mounted curb instead of up in the air.  This was no problem for Bossaire, as their units are all built onto a rugged "c" channel welded base with integral lifting lugs.  This provided a weather proof and joint when set onto the 24 inch roof curb.
The second concern was to get a high quality oil fired reheat section internal to the roof top.  The existing unit had a duct furnace scabbed onto an already overly modular unit.  We supplied to Bossaire another manufacturer we represent, Powrmatic, as the provider of the industrial reheat unit.  Powrmatic built a low-hi-low oil fired duct furnace.  It uses stainless primary and secondary heat exchanger surfaces, power venting and factory mounted and wired burner.
Other features of the Bossaire unit were double wall construciton, internally isolated blowers, pipe and drain chases welded into the unit floor, smoke detectors, filtered supply and exhast air streams, high quality weather hoods to reduce driving rain intake, combustion air inlet hood and single point power connection with factory motor starters.
The overall unit is impressive and quiet.  It stands 8.5 feet tall by 18 feet long by 8 feet wide.  It sits on a 24" high factory supplied roof curb, which we built twice.  The first time we built it 12 inches high "for practice."  The Bossaire literature  does not do justice to the craftsmanship of what they build.  The access doors are rugged and have gutters over them. The floor pan is solid with welded drains.  And my favorite feature is the flame view puff port that is visible from outside without taking off any panels.  You can just make this out in one of my attached pictures.
I hope you enjoy the pictures.  It has taken me some time to get up there on the roof.  And of course the day I finally got there, it was so cold my camera was freezing, as was everything else on my body.  Call with any applications you have from 300 cfm on up.  Regards and stay warm.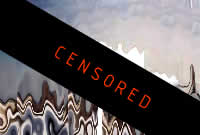 Prematurely Failed Unit
Do to the graphic nature of these images, we are no longer allowed to display their content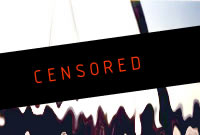 "Get this outta here"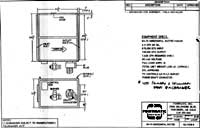 Drawing #1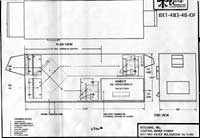 Drawing #2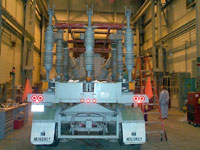 Mobile Generator Unit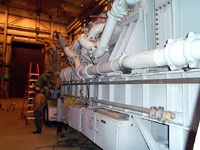 Generator Repairs



Heat Recovery Unit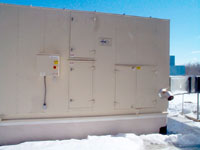 Access Doors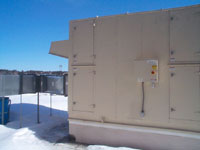 Intake Hood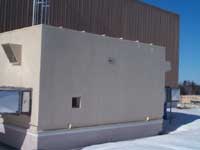 Flame View Port